Public Opinion Survey on the Disposition of the Extraordinary Chambers in the Courts of Cambodia (ECCC) Archives
This project is designed to systematically assess and compile the Cambodian people's collective voice in determining the future disposition of the Extraordinary Chambers in the Courts of Cambodia (ECCC) archives. To date, the U.N. ambassador to the ECCC has voiced strong support for the transfer of the ECCC archives to Documentation Center of Cambodia (DC-Cam)'s custody; however, the Cambodian Government has not reached a final decision on the matter, and the ultimate disposition of the archives remains an open question. The disposition of the ECCC archives is an issue of enormous importance to not only the legacy of the ECCC but also the preservation of the historical record for generations to come. Numerous outside observers have expressed serious concern about the fate of ECCC records should they be transferred to the custody of a party susceptible to personal or political influence. In particular, given the fact that many former and current Cambodian officials are implicated in the ECCC's closed records, this ECCC archive risks being altered, compromised or even destroyed if custody is transferred to a questionable authority.
DC-Cam strongly maintains that it is imperative to ensure the Cambodian people's voice is reflected in any decision with such enormous implications. This survey project would entail the development and implementation of a public-opinion survey by an independent, third-party organization with no vested interest in the decision. DC Cam would work with such an independent organization to develop the survey, test it for validation, assist as needed in identifying mechanisms for making it widely available to the Cambodian people, and help to ensure that it is fairly administered and its results collected and collated by a reliable agent not subject to corruption.
"On January 6, 2011, I returned to S-21 prison with around 300 people from Koh Thom. When I saw his photo, I cried and felt so terrible for my brother. He was tortured and killed by drowning. They pulled out his nails and stabbed his throat. I feel relief to have found my brother, but I am still angry with the person who killed him. I want the Khmer Rouge Tribunal to condemn the Khmer Rouge leader to death." Chreng Yeng, age 57, was born at Chroytakeo, Koh Thom district. Photo by Kalyanee Mam.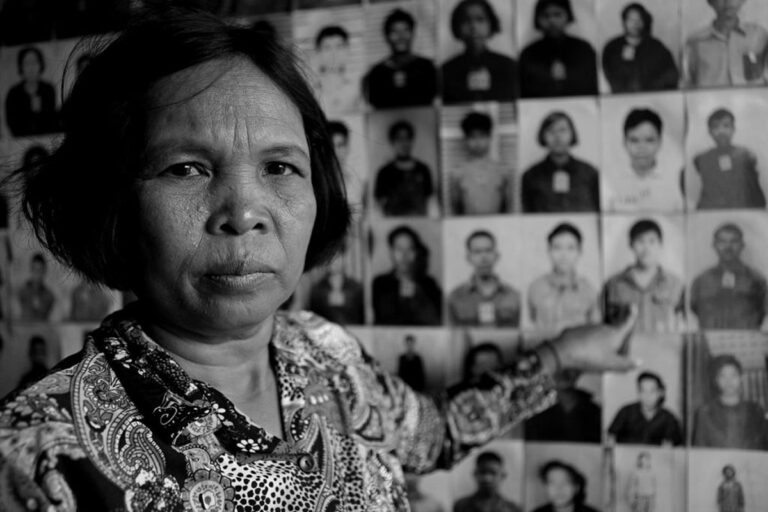 It is a fascinating study and a wonderful piece of social science. DC Cam comes out looking very good; it was interesting that on the question about being influenced by political parties, DC Cam had the lowest score (2.69). This alone (at least to me) is the strongest reason why the archives should be stored with DC Cam and not the National Library. I hope this is how it ends up.
James M. Glass
University of Maryland (12 August 2019)
I don't know if you saw this from DC Camb- but it is a press for the organization to hold the Tribunal archives because it is what Cambodians want. Strangely done.
Heather Ryan
Duch Trial Monitor (12 August 2019)